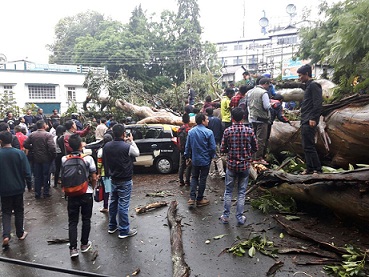 SHILLONG, AUG 12:Three people died and two injured when an old tree fell on three taxis outside Raj Bhavan here on Saturday evening. Two taxis were severely damaged.
East Khasi Hills SP Davis Marak said, "Three person died but the bodies are yet to be identified and two person sustained minor injury. "
The repercussions of an inclement weather has been ravaging various parts of the state for the past few days causing massive destruction and this time again, casualties were reported after a massive tree fell on-top of three cars at AG point near Raj Bhavan main gate at around 4-4:30 pm on Friday.
The old tree which has stood at the Raj Bhavan for decades came crashing across the road down pulling along with it electric posts and wires and crushed  vehicles.
Police informed that one of the local taxis which was completely crushed (registration no. yet to be found out) reportedly had 2 occupants while the other two vehicles with registration numbers ML 06-4171 and ML 05 P- 0643 which were also damaged reportedly had 5 occupants.
By Our Reporter