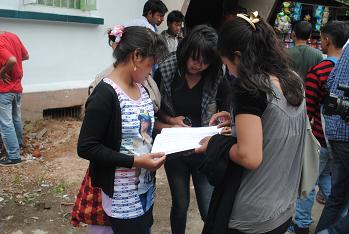 SHILLONG, MAY 19: Amika K War of Auxillium Girls' Higher Secondary School, Shillong top the list of the first ten position of the HSSLC result declared by MSOSE on Monday.   She got a total of 431 marks with letter in Ae,Hs,Ps,Ed and Ec.
War followed by Bethea Meba Aihun K Sohkhlet of St Anthony's Higher Secondary School who was placed second in the merit list as he got 424 marks with letters in  Ae,CAP,Ps and Pls. The third position went to Kritika Goenka of St. Mary's College who managed to score 420 marks with letters in E,Ec,Ps,HSc and Ed.
St Anthony's Higher Secondary School did quite well as it bagged as many as seven positions followed by St Mary College that bagged two positions in the result of HSSLC, 2014 declared today.
Following is the list of the first ten position of the HSSLC result 2014 declared by MBOSE: