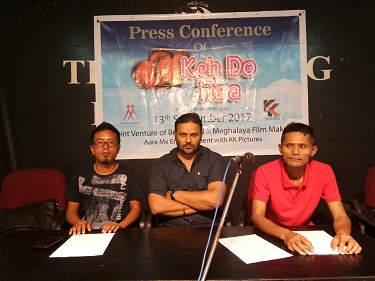 SHILLONG, SEPT 13: An upcoming Bollywood movie – 'Keh Do Na' is all set to be shot in Shillong, the capital city of Meghalaya, with an aim not just to boost the tourism industry but also promote the rich culture and traditions of the state.
The romantic film is a joint venture between a Mumbai-based Aura MX Entertainment and KK Pictures, a Meghalaya film production house.
It all started two years ago, when Karan Kashyap, producer and director of Aura Mx Entertainment fell in love with Shillong which has mesmerized him by its scenic beauty.
"I decided right there that I would come back and a make a film here," Kashyap told reporters at a press conference here on Wednesday.
Kashyap's first film "Six Hours with Terrorists" was 2 hours and 17 minutes uncut film. The whole film was shot in a single take and it is a world record.
He said that 90 per cent of the upcoming romantic film would be shot in Shillong even as he announced that maximum artists will also be from the region, who will be trained in extensive workshops.
"The film intends to highlight Meghalaya's culture and folk dance. Only 10 per cent of the film will be shot in Mumbai and the main cast too would be from Meghalaya and a little from Mumbai," Kashyap said.
Kitbok Kharmalki (Kevin), the head of KK Pictures said that while the leading actor of the film will be from Mumbai, the female leading actor and other artists will be from the state.
Kharmalki, who had also directed the first Khasi horror movie 'Dak Bangla' informed that the audition for this purpose would be organized on October 27. The proposed venue at U Soso Tham Auditorium is however yet to be finalized.
"We appeal to talented people who are interested in acting to come forward and take advantage of this golden opportunity," he said. According to him, the film will also engaged singers from the state.
Asked, Kashyap informed that they also proposing to start the shooting of the film in the month of November and release it on April next year.
By Our Reporter