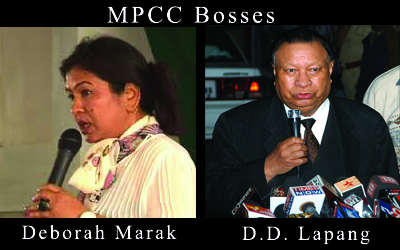 SHILLONG, MAY 16: Putting aside the Congress defeat in the Tura Lok Sabha seat, the Meghalaya Pradesh Congress Committee (MPCC) president DD Lapang said winning or losing is like a game and the people's mandate must be respected even as the working president Deborah Marak informed that the party will hold a meeting on Monday to find the reason for the Congress defeat in the Tura seat.
National People's Party (NPP) president Purno Agitok Sangma defeated his lone Congress rival Daryl William Ch Momin by a margin of almost 40,000 votes.
Momin lost despite the massive campaigns led by chief minister Mukul Sangma in Garo Hills.
Lapang told reporters after the result was declared on Friday, "Winning or losing is a normal game anywhere including politics but as politician and political party we always respect the mandate of the people."
While referring to the campaign of chief minister Mukul Sangma for the Tura seat, Lapang said, "I don't know how much Dr Mukul worked but he also had to come for Shillong seat but despite his effort PA Sangma won the game which means we should accept this with all the humility."
On the Congress debacle in the country, Lapang said, "Yes, we feel bad as this time we have lost major portion almost completely washed out."
MPCC working president Deborah Marak who also slogged hard for the Congress candidate in garo hills informed that the party has called a meeting on Monday to find out the reasons behind the party's debacle in Garo Hills.
Marak said during that post mortem meeting the party will find out what really happened leading to the defeat of the Congress candidate in Garo hills. She said the result was unexpected for the party.  But she said, "We accepted the defeat because it is the people's mandate and we have to respect and this is the beauty of democracy as it is the people's choice."- By Our Reporter