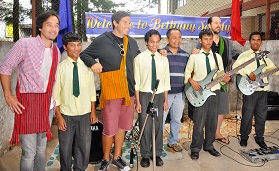 SHILLONG, JUNE 28: A day before they could rock Shillongites with their rocking music, the Hoobastank- the internationally acclaimed American rock band- members were both stunned and awed by the gigs of the differently abled students of the Bethany Society who played Bob Marley fame Get Up, Stand Up, and the John Lennon renowned song Imagine.
The four-member band was seen thoroughly enjoying the numbers dished out by these students at a reception held for the band at the Bethany Society at Laitumkhrah on Friday.
The differently-abled students performed with élan the Bob Marley fame Get Up, Stand Up, and the John Lennon renowned song Imagine in front of the Hoobastank team who were mesmerized by the type of music these talented and dedicated differently abled students played in front of them.
Lead vocalist Doug Robb could not help but pat the differently-abled students whose music resonated the compound of Bethany Society near St. Edmund's College campus.
"You guys are really good, and there is so much talent in you. I am truly amazed," Robb told the students in front of their colleagues and teachers.
Robb suggested that something needs to be done for the students as their talents amazing which could not be expressed in words.
Perhaps, it was something the group, and many others present there, had never experienced before.
The four-member band, accompanied by a three-member technical team, landed at Guwahati on Thursday morning and stayed at Ri Kynjai resort near the Umiam Lake, about 15 km from here.
The band members were also felicitated with bags made by the differently able students.
This is the band's maiden tour to India.
Hoobastank frontman Robb told reporters during an interaction, "We have never expected that this place existed in India. It is one of the most beautiful places we have seen. I am so fascinated by the geographical aspect of the place,"
The sound set up for the big gig to be held at Polo on Saturday is a locally produce using resources from states including Meghalaya and neighbouring Nagaland, Mizoram of the region.
"We are set and ready to rock Shillong," the band said.
Aptly titled 'The reason is Shillong' this international concert is a part of the 6th anniversary celebration of the leading magazine from the Northeast region, TNT-The Northeast Today.- By Our Reporter