{image.index}/{image.total}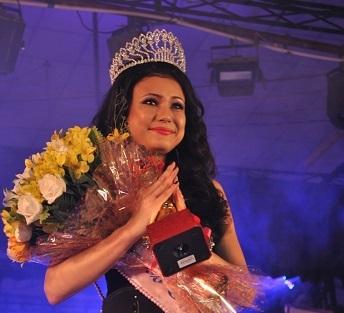 Shillong, October 19: Twenty-four year old Suman Lyngdoh sashayed her way to clinch the "Miss Shillong 2013" beauty crown beating other contenders in an evening filled with glitz, glamour and fun at the U Soso Tham auditorium on Saturday night. She was followed closely by first runner-up Sneha Biswas, second runner-up  Vandana Borkataki..
Suman Lyngdoh dazzled the judges to walk away with the coveted title of "Miss Shillong 2013" crown in a beauty pageant organized by the Fashion Society Shillong (FSS).  Incidentally, the Miss Shillong beauty pageant has entered into the pearl year and is one of the oldest beauty pageants in north east India.
Immediately after being crowned the "Miss Shillong 2013" by last year Miss Shillong Donna Mary Khyriem, the twenty-four year old Suman Lyngdoh who is also a fashion designer said, "I am so happy and feeling blessed…"  Her joy was palpable as  her name was announced as this year Miss Shillong.
The two teen sensations – Sneha Biswas and  Vandana Borkataki – were also heart stoppers of the show but it was not their day as they had to be content with the first and second runner-up title respectively. Ibapynkmenlang Lyngdoh was adjudged the fourth runners up.
The remaining other had to be contented with the other give-away prizes awarded for the most beautiful smiles, good skin, hair etc during the grueling three rounds finals.
It is worth mentioning that Suman Lyngdoh is one contestant who bagged as many as five sub titles.
The sub title for Queen of Hearts, Miss Catwalk, Miss Spontaneity, Miss Poise and Best Traditional Attires was won by Suman, Miss Role Model and Miss Personality– Crystal Saxena, Sparkling Eyes and Silky Skin – Sneha Biswa, Photogenic – Ibapynkmenlang Lyngdoh, Dazzling Smile – Sara Mynsong, Beautiful Hair – Nenem Sauntak.
The Miss Shillong not only got the coveted crown but also walked away with a cash prize of Rs One lakh, the first runner up with Rs 50,000 and the second runner-up with Rs 30,000 respectively besides gift hampers.
However the Miss Shillong beauty pageant this time saw fewer crowds compared to earlier years when the auditorium used to be jam packed with people waiting outside to get a chance to have a glimpse of the show. The agitations that have rocked Meghalaya must have taken a toll on the Miss Shillong beauty contest too.- By Our Reporter