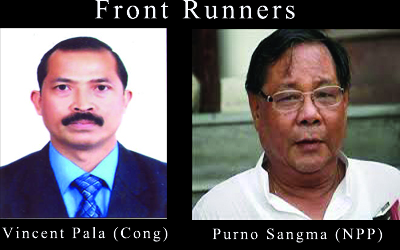 SHILLONG, MAY 16:  Former Lok Sabha speaker and  National People's Party (NPP) president Purno Agitok Sangma and Congress MP Vincent H Pala are leading in Tura and Shillong Lok Sabha constituencies respectively.
However the former Lok Sabha speaker who is seeking re election for the ninth term from Tura parliamentary constituency and leading by over 30,000 votes is still not out of the wood. Though it appears that he is heading for a win, but the margin lead is small considering that there are only two candidates contesting for the Tura seat.
In earlier elections when Purno A Sangma contested he would have normally lead by huge margin by this time.  Therefore, Sangma who looks all set to win this time too will be winning by a smaller margin this time.
His lone Congress rival Daryl Momin, a congress candidate has secured over 88,000 votes till the moment.
In Shillong, sitting Congress MP has garnered over one lakh votes while his closest rival Independent candidate P B M Basaiawmoit secured over 88,000 votes.
The NOTA which was introduced for the first time in the elections is also gaining grounds with over 15,000 voters pushed the NOTA button in both the constituencies.
AAP candidate A Kharshiing and CPI candidate R D Shabong are trailing after NOTA in Shillong which has over 4,900 votes.
Ten candidates are contesting for the two constituencies in Meghalaya where 69 per cent of the 15.65 lakh eligible voters casted their votes in the April 9 elections. – By Our Reporter