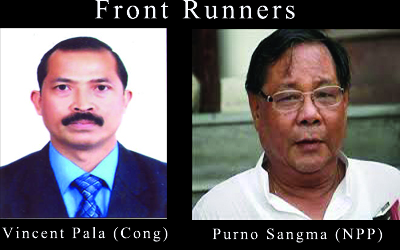 SHILLONG, MAY 16: The final results of both the Tura and Shillong Lok Sabha seats is now more of an academic interest as former Lok Sabha speaker and National People's Party (NPP) president Purno A Sangma is set to clinch the Tura seat while sitting Shillong Congress MP Vincent Pala will also retained his seat as counting is still taking place on Friday.
However the counting remains a mere formality as Sangma is leading against his only Congress rival Daryl William Momin by securing 2,27,869 votes.  Daryl so far has 1, 90,583 votes.
For the Shillong seat, Congress candidate Vincent H. Pala has so far garnered 1, 95,321 votes followed by Independent candidate PBM. Basaiawmoit 1,55, 834, UDP candidate  Paul Lyngdoh  1,01,492  and BJP candidate Shibun Lyngdoh  who have so far polled 92,3,066 votes.
Much against the Congress claim, NPP leader Purno A Sangma has shown that he is still the strong man of Garo hills. Despite having only one NPP legislator, the veteran political leader is all se to win the Tura seat for a record ninth term. He started his electoral politics from 1977 and did not contest the Lok Sabha election 1989 and 2009.
In 1989 he was the chief minister of Meghalaya and in 2009 he decided not to contest and instead propped up his youngest daughter Agatha K Sangma who won the elections in NCP ticket and went on to become union minister of state under Prime Minister Manmohan Singh UPA government.
For Pala this will be his second time representing the Shillong Lok Sabha seat. He also was a union minister of state under Prime Minister Manmohan Singh.- By Our Reporter