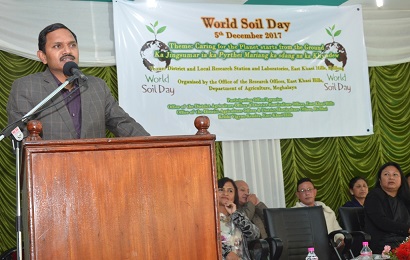 SHILLONG, DEC 5: As part of the observance of World Soil Day, the office of the Research Officer, East Khasi Hills, Department of Agriculture, Meghalaya today organized a programme under the theme: "Caring for the Planet starts from the Ground", at the District and Local Research Station and Laboratories, Shillong.
Congratulating the farmers for their hardwork and dedication, Commissioner & Secretary to the Government of Meghalaya, Agriculture Department, PS Kumar said that farmers are the backbone of development in the State. He informed about the interventions that are being taken up in various areas to address issues faced by the farmers of the State, which include zero budget farming where farmers would not only get benefit from farming but would also help in the promotion of sustainable livelihood. He also informed that the helpline toll free number 1917 and the agri-response call centre will be set up to help the farmers put forward their complaints and grievances and also for other farming related queries. Kumar further informed the gathering that interventions are also being taken up to have direct market linkages which will connect the farmers directly to the buyers and also about the transportation facilities with the likes of OLA and UBER to transport the produce to the market, which will not only cut down the transportation costs but will also help farmers to have a sustainable livelihood.
Secretary to the Government of Meghalaya, Agriculture Department, MN Nampui in her speech as the Guest of Honour expressed hope that the deliberations by the experts at the Technical Session will enlighten the farmers on the significance of soil health and the correct usage of fertilizers. This, she said, will not only be beneficial for maintaining the overall health of the consumers but will also bring about a new trend to farming.
During the programme, the Chief Guest and the Guest of Honour also distributed Soil Health Cards to the farmers of the East Khasi Hills and Ri-Bhoi Districts.
Later in the programme, Secretary to the Government of Meghalaya, Agriculture Department, M. N. Nampui inaugurated the Mini Micro-Biological Laboratory in the office premises.
By Our Reporter