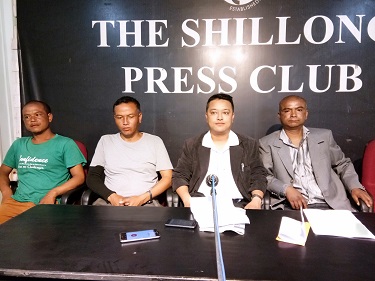 By Our Reporter
SHILLONG, MAY 19: A BJP member from North Shillong Lurshai Lyngwa today quit the party to support the cabinet minister and sitting legislator Roshan Warjri citing that the ruling Congress deserved to come back to power in 2018.
Lyngwa, who was earlier eyeing for the BJP ticket from North Shillong, also claimed that along with him over 75 leaders and supporters are also resigning from the BJP.
"I have decided to resign from the BJP and accordingly announced not to contest the forthcoming elections," he told reporters at a news conference held here on Friday.
Informing that the decision was made after conducting an analysis on the matter, he said that he has decided to fully support Warjri because she is a silent worker despite of having done a lot for the constituency.
Despite being an anti-Congress in the past, Lyngwa however said, "Through my analysis I must congratulate the chief minister Mukul Sangma and his team for proving that it is only the Congress that can ensure a stable government in the state."
Stating the Congress deserves another chance, he said that it's a job well done despite the state being confronted with the financial crunch arising out of the NGT ban on coal mining.
Asked, the former BJP member said that BJP is having a less chance in the state as it would take a long time for the people of the state to accept the party's ideologies.
According to him, politics in Meghalaya is not based on party politics. He however refused to further comment on other issues related to the BJP.