Shillong: Make This Hill Capital Your Holiday Destination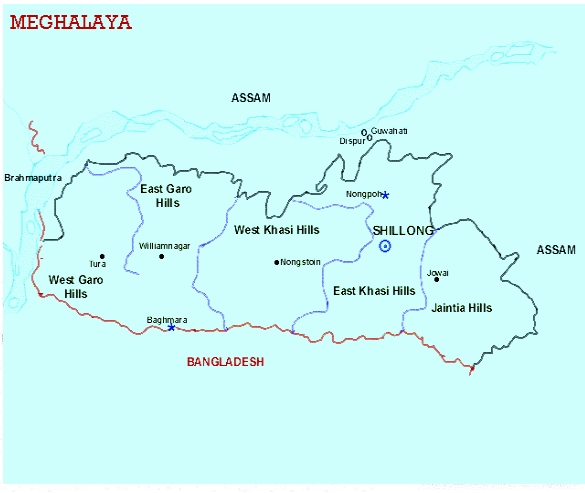 Shillong Tourism or for that matter tourism in Meghalaya is poised to become a major source of revenue to the people in the near future. This hill station is blessed with breathtaking landscape and salubrious weather throughout the year. Because of its weather, health tourism can flourish, in fact during the British era, the Britishers from other parts of India came to Shillong to recuperate from their illness.
So, health tourism is not a new but a "forgotten concept" which the stakeholders are thinking of reviving.
Those who have visited Meghalaya are awestruck by its pine trees, rolling hills, cascading waterfalls, flora and fauna and sacred groove not to speak of the cleanest village in Asia Mawlyngnong.
Who doesn't know of Cherrapunjee- spelt as Cherrapunji by tourists- the rainiest place on planet Earth. Well, Meghalaya is home to this rainiest place which draws hundreds of tourists every year.
The Oh ! Meghalaya website takes you to a tour of the tourist spots in Meghalaya with information gleaned from a tourist guidebook published by the Tourism Department, Government of Meghalaya.
Fact File
Meghalaya map
Basic Facts:
Location: Latitude 20 1'N & 26 5' N
Longitude 85 49'n & 92 53' E
Area: 22,429 sq km
Population: 3 million
Capital: Shillong Climate:
Summer Max 23 C- Min 15 C
Winter Max 15 C- Min 03 C
Racial origin of the people: Austric, Tibeto-Burman
District Headquarters
East Khasi Hills District :Shillong 2748 Sq. Km
Ri-Bhoi District :Nongpoh 2448 Sq. Km
West Khasi Hills District :Nongstoin 5247 Sq. Km
East Garo Hills District :Williamnagar 2603 Sq. Km
West Garo Hills District :Tura 3714 Sq. Km
South Garo Hills District :Baghmara 1850 Sq. Km
Jaintia Hills District :Jowai 3819 Sq. Km
Meghalaya became a full-fledged State on January 21, 1972. The name Meghalaya is derived from a Sanskrit word which translates into the "Abode of Clouds." The State is home to the Khasi, Jaintia and Garo tribal but it also has pockets where the Mikir and Cachari live. There is also significant presence of non-tribal population especially in Shillong. Meghalaya is also known as the "Scotland of the East" because the weather is akin to Scotland.
The tribal population is predominately Christian belonging to different denominations.
Meghalaya is blessed with natural beauty and is considered one of the most beautiful hill stations in India. If you are a lover of nature, Meghalaya will surely beckons you with its cascading waterfalls, rolling green hills, rivers, lakes and its rustic rural beauty.