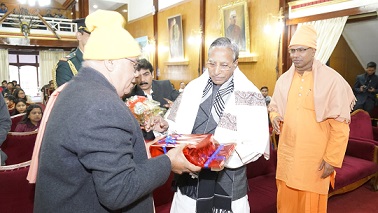 SHILLONG, JAN 12: About 150 youth took out a procession carrying messages of Swami Vivekananda on the occasion of National Youth Day celebration held here in the city on Friday.
The day which is also to commemorate birth anniversary of Swami Vivekananda was also marked by cutting of cake by the Governor, in a function held at Ramakrishna Mission Vivekananda cultural centre premises.
About 300 youth were present in the hall where Swami Vivekananda had delivered the last public lecture in 1901.
Addressing on the occasion, Governor called upon the youth to imbibe the spirit of Swamiji and stop not once certain success has been reached and continue to work to fulfill the dream of Swamiji and thus develop the nation.
Answering a question as how to balance tradition and Technology he replied that balancing tradition and technology is to be done the way one takes care of one's children as well as of one's elder parents and this way keeping one open for the growth of new technology.
A skit presented by the Youth Forum and 'Lend Thy Hand' volunteers was one of the attractions during the occasion, apart from a dance performance.
Swami Sarvabhutanandaji Maharaj, in his speech quoted Swami Vivekananda and said that the teachings of his parents and his attitude towards the search for truth made him great.
He also mentioned that young people with their ability and hard work can become great like Swami Vivekananda himself. And the present generation too must leave a mark behind.
Two representatives from the youth also shared their views appropriate to the occasion.
Earlier, a Blood Donation Camp was also organised by Ramakrishna Mission in collaboration with NEIGRIHMS hospital, in which 30 persons approached and 26 donated blood and the rest 4 were deferred.
Volunteers of Vivekananda Cultural Centre also took out a cleaning drive around Quinton Road, Jail Road on Thursday as a part of the celebration.
By Our Reporter