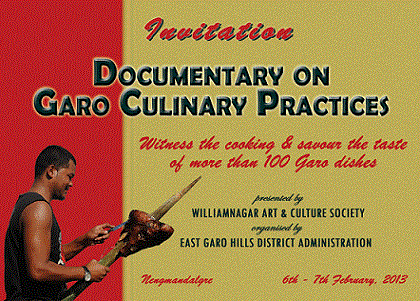 SHILLONG, FEB 2: The East Garo hills district administration under the aegis of Arts & Culture Department will be making a documentary film on "Garo Culinary Practices". East Garo hills deputy commissioner Vijay Kumar Mantri informed that this would be the first ever attempt to comprehensively document the Garo Culinary Practices.
Mantri said that food is an integral and most important part of Garo culture and the dishes are known for its delicacy and distinctiveness. Garo dishes such as Kappa, Pura, Nakam, Watepa, Brenga derives its name from the procedure rather than ingredients, he informed.
Mantri said that a committee of senior citizen, social workers and artists who were entrusted with the task of listing out all the Garo dishes has submitted a list of more than 100 Garo traditional dishes.
Mantri also said that the documentary film "Garo Culinary Practices" will be filmed on February 6and  7 in Nengmandalgre village. According to him Nengmandalgre is a beautiful village lying across Simsang river. Traditional Garo women will be cooking about 100 garo dishes on the sets of traditional Garo houses which are constructed specifically for the documentary film on the banks of Chibok river, a tributary of Simsang River.
Apart from the documentary film, Mantri informed, a Coffee Table Book on "Garo Culinary Practices" will be published which will serve generations providing authentic knowledge on Garo traditional dishes. – By Our Reporter