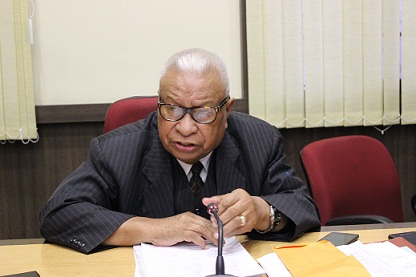 By Our Reporter
SHILLONG, MAY 17: Meghalaya Pradesh Congress Committee (MPCC) chief DD Lapang today said the party will examine the merit of the case after a complaint was lodged against the power minister for his alleged anti-party activities.
"We will go according to the merit of the case," Lapang told reporters at the sidelines of a meeting of the party to discuss on the enrollment related issues held in the city on Wednesday.
Asked whether the party would issue show cause, the veteran leader said, "Definitely (we will) as that (show cause) is one of the procedures. Not only the minister, but anybody from the highest to the lowest."
In its petition, the Jowai Block Congress Committee has sought dropping of power minister, Sniawbhalang Dhar, for allegedly announcing candidate against his own cabinet colleague – RC Laloo, who is also the deputy chief minister.
Dhar had openly gone to the constituency and declared of putting up a candidate against Laloo, the sitting legislator of 2-Jowai Constituency in West Jaintia Hills District, where he had asked the people to support the candidate.
"This is a fit case for the party to take strong and necessary action by dropping this Minister (Dhar) immediately from the cabinet and withdrawn all party posts he is holding," JBCC president Andrew A Shullai stated in a letter to MPCC chief.
Whether the party would recommend for dropping the minister, Lapang however said, "I have not seen the paper (complaint) and it is too early for me to comment on this as we have to go according to the merit of the case."
He informed that the letter of the JBCC is still with the District Congress Committee (DCC) of the West Jaintia Hills. "A copy to me was also sent of course but I am yet to through the letter," Lapang said.
Reiterating that the party will take up the matter as per procedure, he said, "We got the disciplinary committee, we got the formalities and we go strictly as per the party guidelines."